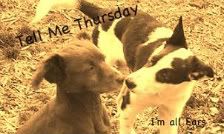 (1) How did you get into border collies (or whatever your dogs of choice are)? What started it all?
Sorry for those of you who have heard this, oh, like a gazillion times, but Laura asked....
I was living on my own in Fredericksburg, VA, and was recently divorced. I had always had cats because I traveled fairly often for work and they were easy to leave with someone checking on them every other day.
I grew up with all sorts of dogs and knew that someday I wanted a dog. And that someday became now. The local paper,
The Free Lance-Star
published weekly a list of pets available at the "Pet Assistance League," (PAL) a group that took any breed off death row.
I used to peruse the listings and I had been thinking about getting a dog. One of my favorite dogs growing up was a Belgain Tervuren named Shai Fox. She used to go everywhere with us when we traveled the countryside on horseback (along with our wire-haired fox terrier named Nip).
Anyway, I knew I wanted a herding breed. This was 25 years later and I had recently seen Tervurens and didn't like the changes that had occurred over time, but I seriously consider a malinois, since they seemed less affected by the show ring.
To make a long story short PAL listed a bouvier and I went to see her. We didn't click. But my mom, who was with me and who was a sighthound fan, saw a little Italian greyhound. She couldn't stop talking about it, so I agreed to go back with her the next day so she could adopt him.
While we were there, the woman said to me, "I know you said you weren't interested in a male dog, but let me just show you this fellow." That was Indy, a border collie x aussie. He passed away last year at age 17.
That's Willow in the very back (Kat in the middle). About four years after getting Indy, I decided to move the North Carolina. Indy was a very sociable dog and had dog friends to play with at two of my neighbors' houses. I wanted him to have a buddy when we moved, and so I contacted Appalachian Mountain Border Collie Rescue, and Willow entered our lives. I still didn't have any ideas about working dogs--Willow was my jogging and rollerblading partner (Indy was too random for those activities--he'd go along great for days or weeks and then one day decide to cut directly in front of me chasing something and I'd fall and end up with a major case of road rash.
Anyway, after I moved my vet had a client who had a border collie that she couldn't care for. That border collie belonged to her husband, who had died of cancer. The dog had been left to develop all sorts of OCD behaviors out in her yard. Because she traveled fairly often, he was boarded at the vet's a lot. He had surgery to remove a lick granuloma (one of the obsessive behaviors). So my vet talked me into taking him. I did so with the idea of fostering and rehoming, but soon realized that he had issues that pretty much made him unadoptable (i.e., fear biting). But when I got him, he came with his pedigree and I mentioned it to the person I'd adopted Willow from. I sent her a copy and she recognized the lines he came from and suggested I try him on sheep at Carol Calhoun's place, which was about an hour and 20 minutes from me. I did so. Farleigh was a bit of a wash out, but Willow took to it like a, well, border collie to sheep. And the rest is history.
Here's Farleigh looking very grey about the muzzle. Um, and shaved in his "Liberty Lavendar Dog" incarnation, lol!
(2) How many dogs do you have? All dog math variations accepted.

Nine border collies and two LGDs. There, I admit it. No special math.
(3) What do you do for a day job?

Day job? What's that? Living hand to mouth.... If anyone knows of any work for a freelance writer and editor, pass it my way!
(4) What questions would you like to answer (or ask)?


Um, you're asking me to think. Don't know if I can do that. Can't you be nosy enough for all of us?
(5) What was for dinner last night?

Not hot dogs, for once! Actually Peggy took me to George's and I had a lovely spinach salad. I was desperate for something fresh and green. In fact it was a banner day for eating for me. Since I had to go to Jim's in Raleigh to pick up Joan's clothes, I stopped at Greek Fiesta (a new place near where he lives) for lunch and had dolmades, felafel, taboulleh, and tzatziki sauce with pita bread. A yummo day. Today, sadly, it's back to PB and honey and whatever I can scrape together for dinner.