Yay! It's Tell Me Thursday, thanks to Laura at Crooks and Crazies.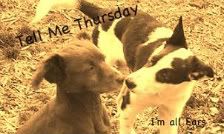 So here we go.
1. Who is your newest dog? Where is he/she from, and why did you choose this particular dog/breeding? This question posted by Jodi.

My newest dog isn't so new anymore. Ranger turned 2 at the end of July. I was working with the bitch and thought she had some very nice attributes, and I also knew the sire, although he wasn't the original sire that was discussed. Because the bitch's owner moved back to Utah at the time the bitch (Chris) was coming in heat, I ended up keeping Chris so that Robin could breed Zac to her. Then I ended up keeping her and whelping the litter. There were just three pups, so I got the last one in exchange for keeping Chris and whelping and raising the litter. Chris is largely farm bred, Zac is a son of Robin French's Spottie and Nancy Schreeder's Link.
I am beginning to look around at planned breedings and put my name on some lists. See below for what I want in a dog.
2. What traits drew you to this dog or breeding? (also by Jodi)

Hmmmm...good question. Not for his looks, lol! As I said above, I saw things in Chris I really liked and thought that Zac's more sensible/biddable nature (though still with plenty of push) would make a decent cross. Interestingly enough, Ranger has pretty much zero eye and is nothing like any other dog I have. He's been a challenge to train because he's not what I'm used to, but as Pat Shanahan told me once, the different dogs are the ones who make us better trainers! Unfortunately for Ranger, my income is tiny and so I'm not trialing, which in turn removes a lot of the incentive for training a lot. Maybe things will turn around before he's too old.
Like Laura, I like a natural dog (that is, one that can read sheep and respond appropriately without input from me) with plenty of push, but who also wants to partner up with the human. I want a thinking dog who will do his/her part once he's figured out what the task is. A dog I can trust to do the right thing when out of sight. Sensible. I like a bit of eye because I think it's a big help when shedding and penning (and doing chores at home when you don't have a handling system). A natural outrunner. Not afraid to join the fight if need be. Did I just describe Twist? I want another one almost exactly like her, but without such a wide outrun. Puppy gods, are you listening?
3. What's on your feet right now?

My feet are currently nekkid! That's one of the small pleasures of working at home.
4. What are you reading right now?

The current book in the bathroom is
The Girl in the Blue Beret
, by Bobbie Ann Mason. It's the story of a retired and widowed airline pilot who returns to the field in Belgium where his B-17 crashed on his 10th mission during WWII. From the dust jacket synopsis: "Marshall's search becomes a wrenching odyssey of discovery that threatens to break his heart--and also sets him on a new course for the rest of his life. In his journey he finds astonishing revelations about the people he knew during the war--none more electrifying and inspiring than the story of the girl in the blue beret."
Recently finished:
The Wind in the Woods
, by Rose Senehi, a thriller set in the Green River Valley of North Carolina, and
The Lake of Dreams
, by Kim Edwards (who wrote
The Memory Keeper's Daughter
). For any horse lovers out there, I also recently read
Renegade Champion: The Unlikely Rise of Fitzrada
, by Richard Rust. It's the story of an Army horse who went rogue and was slated to be destroyed, but was bought by an Army colonel for his daughter, who eventually turned Fitz around and became one of the first women to compete (and win) nationally on the jumper circuit (this was when the Army still fielded Olympic riding teams and women were largely confined to handy hunter classes). It's a great true story about a girl and her horse and overcoming obstacles. Okay, I'll stop myself here.
Laura should know better than to ask someone like me about books....
5. What upcoming trials are you looking forward to? If you don't trial dogs I'll take whatever activity that you're looking forward to.

Donald McCaig's Highland SDT. Not because I'll be running a dog (I'm not), but I'll be setting sheep. Donald's is my absolute favorite place to go. The beauty, the Cowpasture River, so many stars at night (I live in a rural area, but the star viewing here doesn't hold a candle to the star viewing there). No cell service. Time spent with my good friend Debbie, who works the pen. Setting sheep at a trial is hard work, but going to Yucatec Farm has so many benefits for the soul, that I look forward to it every year. And of course, it's thanks to Laura that I can go away and know that the farm, the critters, and the old dogs are all in the most excellent of hands!
Me taking the polypays out in the early morning at Donald's.
Simon and Pip, the unsung heroes of many a trial (Simon is Debbie's dog and works the pens).
Simon and Pip doing their thing at Longshot Farm. Simon pushes out, Pip picks up. You can see me in the distance walking to the set out, and Debbie is back in the pen, moving the next sets forward. Simon and Pip know their jobs and just do them while Debbie and I do our thing. (You can barely see Pip in the upper right at the tree line--I stole these photos off Facebook, so sorry for the small size.)
I will try to get some photos of the beauty of Yucatec Farm this year and post them to this blog after the trial.