...and that seems to be the only time I post anymore, but it's better than nothing, right?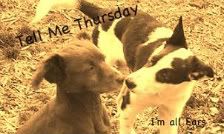 Questions for today:
1. In sheepdog training (or lets call it *any* type of training), how do you keep from taking yourself, your dog, your lack of progress too seriously? posed by Ann

That's a tough one. Right now, the fact that I have essentially no money and can't trial and have dogs who are fine for doing the chores means that it's pretty easy to just blow off lack of progress. I keep saying I'm going to just put the youngster up for a few months. But I find I can't really do that. So simple chores still happen. My lambs are over at Robin's, the ewes need to gain weight, and it's been freakin' hot, so easy enough not to worry about progress. I've just got Ranger who needs training; everyone else would really just need tuning up, so there's not a lot of pressure to do anything. Of course, that's sort of a cop out, but I imagine if I had trials as an incentive, I'd work harder with Ranger and probably what I consider a lack of progress right now really wouldn't be.
2. How many crates do you have? For reals.

This may not be an exact count, because I'm not sure how many are in the garage (2 or 3), so let's say approximately 24, not including cat crates. That's really just a little more than 2 per dog, and my crates double as chick-raising crates as well, so they do multi-duty around here. And then there's Jill's indoor X-pen, which is her de facto crate in the house.
3. How do you keep your dogs in shape?

We used to take long walks to the river several times a day, but I got to the point where I just couldn't take the gazillions of ticks they (and I) were picking up, so now we just don't exercise. Since we're not trialing or doing anything terribly strenuous at home, it's not a big deal, but I at least need to do something over the next month to get Pip and Phoebe in a bit better shape, since they will be the set out dogs at Donald's trial, and it's really not fair to them to expect them to work three long days when they've been slugs most of the summer. That said, Pip, after a couple of months of soundness (no doubt as a result of doing next to nothing overly physical), was limping again the other day. Sigh.
4. Who is your favorite movie/tv star eye candy at the moment?

Well, that's a tough one since I haven't been going to the movies or watching much TV. But Liam Neeson always qualifies as a fave of mine, so he's got my vote for this Tell Me Thursday.
5. What is your livestock situation? Have your own? Borrow? Herd the cats? (You can subsitute other equipment for livestock if you don't work stock with your dogs).

I have my own: sheep and chickens (because, you know, Lark and Pip LOVE to work the chickens, and they do come in handy when the chicks and some of the big chickens are slow to go in the coop at night). I have a small flock of sheep--seven mule ewes, six tunis ewes, the BFL ram, and 20 lambs, a good number of which I will be keeping back for the breeding flock this year, assuming I have enough pasture to justify it. I have a Suffolk ram lamb coming sometime in the next week or so. I have more chickens than I have sheep; it's easier to count crates than to count chickens....
Sorry, no photos today--for some reason Blogger isn't allowing me to upload and I have work to do so can't fiddle around to try to figure it out or just to outwait the dam* system till it decides to cooperate.